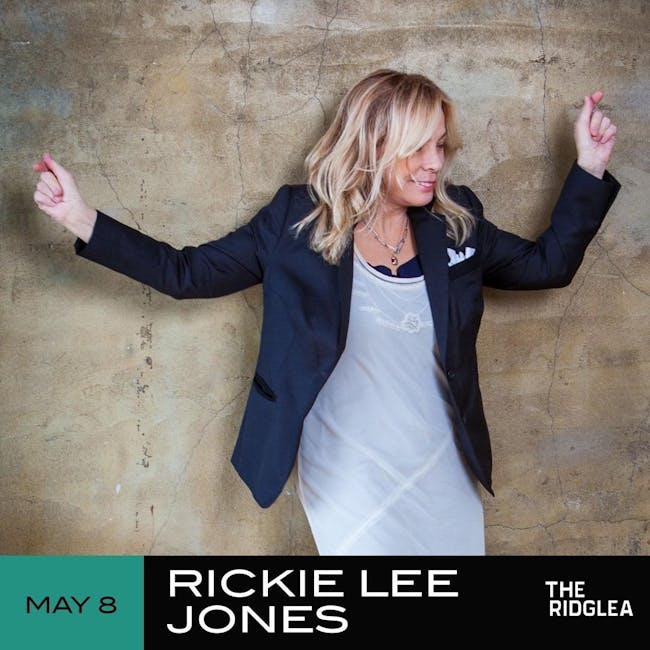 Rickie Lee Jones
Ridglea Theater
$32.50 - $302.00
Canceled
On through Kessler Presents
Rickie Lee Jones at Ridglea Theater
RICKIE LEE JONES has spent a life time dancing with her muse. She is the most iconic American female singer-songwriter of her time, a woman who outlasted all her adversaries--including youth and self-destruction. A seasoned humility brings her performances an authenticity that only long-enduring musicians achieve. Her artistry is brilliantly underlined with her 2019 forthcoming album KICKS. The album spans two decades (50s-70s) of pop, rock and jazz, presenting her unique and sophisticated interpretations of songs that were pivotal to her musical journey.
By the time she was 19, JONES was living in Los Angeles, waiting tables and occasionally playing music in out of the way coffee houses and bars. All the while, she was developing her unique aesthetic: music that was sometimes spoken, often beautifully sung, and while emotionally accessible, she was writing lyrics as taut and complex as any by the great American poet, Elizabeth Bishop. In JONES' voice and songs, we saw smoky stocking seams, love being everything but requited. And it was during these years that RICKIE LEE's song, "Easy Money," caught the attention of one musician and then the music industry. The song was recorded by Lowell George, the founder of the band, Little Feat. He used it on his solo album, Thanks, I'll Eat It Here. Shortly thereafter, Warner Brothers auditioned JONES and quickly signed her to the label.
Her 1979 debut RICKIE LEE JONES (Warner Bros) won the Grammy for "Best New Artist." She was hailed by one critic as a "highly touted new pop-jazz-singer-songwriter" and another critic as "one of the best--if not the best--artist of her generation." In addition to the album's brilliant songs--including the exceptional "On Saturday Afternoons in 1963," the haunting "Last Chance Texaco," and the popular "Chuck E's in Love"--JONES was becoming a figure whose life was bearing a great deal of emulation by young women and men who found, in her deep and personal and idiosyncratic life and work, a model for the new generation of hipster.
The American culture was instantly intrigued. RICKIE LEE seemed as much of a hit as her song. She was the alternative to punk/new wave, representing the revitalization of the dying art of the pop song. She liked pop and said so. JONES' work was the amalgamation of jazz and rock and pop, a percolating zygote that made itself into a brave new world called RICKIE LEE JONES. American culture was changed.
Her second release, PIRATES, was instantly hailed as one of the great albums of all time, garnering the elusive 5-star review and a second cover in Rolling Stone--RICKIE LEE JONES seemed to be able to do anything the boys could do, and on her own terms. Her impact would be felt long after, even when she herself became one of the long unrecognized American treasures.
RICKIE LEE JONES was the IT girl of the 80's, trend setter, beautiful big smile and long blonde hair, gyrating teenager in a spandex one-piece, a temptress in lacy elbow length gloves and heels--still a popular rock costume today. She abandoned the "dress like a guy to be taken seriously" maxim and she ushered in a new epoch in singer/songwriters--the pop singer. Still, she is often associated with a musical generation 10 years her senior. And it is easy to see why--RICKIE LEE was the last to be associated with the first wave of singer songwriters and the first of an amalgamation of pop/jazz/rock singer songwriter--the self-made personality-driven icon.
Before RICKIE LEE JONES, the genre of singer songwriter was derived entirely from the folk singers of the 50's and 60's. She brought jazz to the rock stage, a teenaged recklessness and a flair for drama. From the get-go, it was unclear which genre she was to rule. RICKIE LEE was voted best jazz singer in Playboy and Rolling Stone polls two years in a row.
RICKIE LEE JONES was the "Duchess of Coolsville" (Time magazine). But she was the Queen of Cool, an uncomfortable crown for a woman devoted to her muse.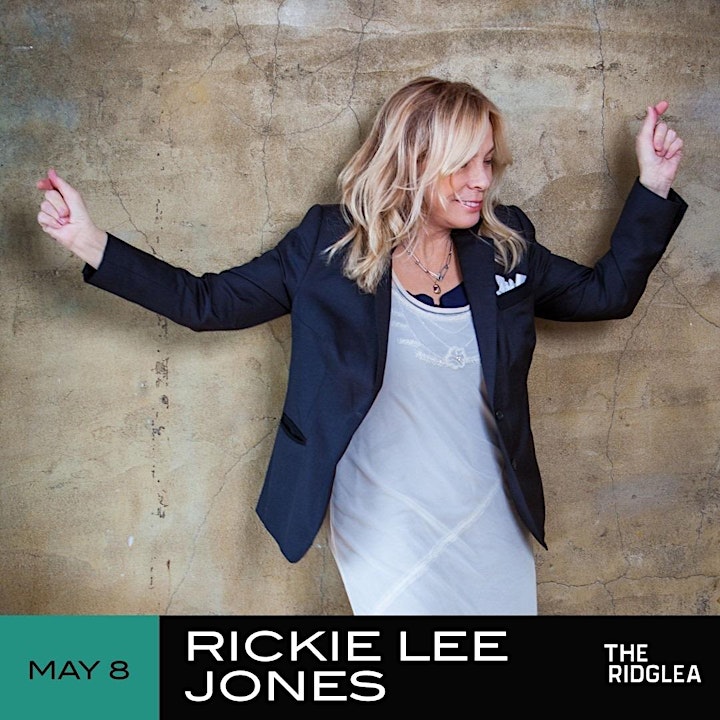 Venue Information:
Ridglea Theater
6025 Camp Bowie Blvd
Fort Worth, TX, 76116