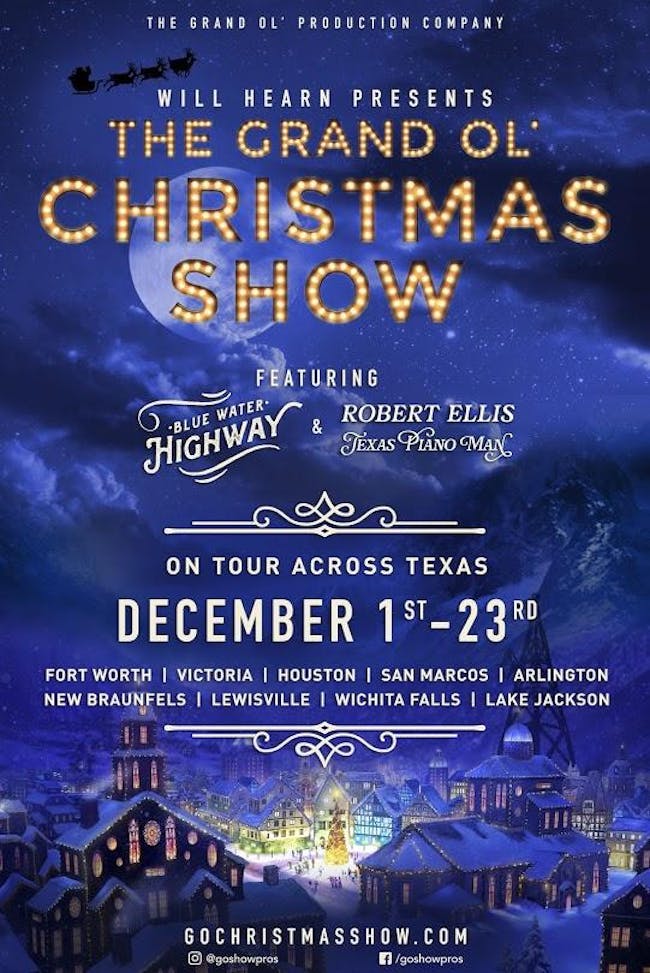 Presented by Ridglea Theater
Blue Water Highway Band
Robert Ellis
Ridglea Theater
$20.00 - $140.00
Sales Ended
On The Grand Ol' Production Company
Ridglea Theater presents The Grand Ol' Christmas Show with Blue Water Highway and Robert Ellis in The Ridglea Theater, Fort Worth, TX
The Grand Ol' Christmas Show is a live, raucous rollicking, one-of-a-kind musical variety show performed "within the studio" of a live 1940's radio broadcast, bringing all-time favorite Christmas classics and original sketch comedy antics to theaters across Texas. An original creation of The Grand Ol' Production Company, produced by and starring Will Hearn and proudly benefitting Habitat for Humanity of Southern Brazoria County. This year's show features international Americana standout and local favorite Blue Water Highway, a cast of the best artists and entertainers in Texas, and a new addition to this year's featured line-up! The critically acclaimed Texas Piano Man, Mr. Robert Ellis! The Grand Ol' Christmas Show hearkens back to a simpler era and will leave you with a feeling you haven't felt in a long time.
In 2019, The Grand Ol' Christmas Show tours to Fort Worth, Victoria, Houston, San Marcos, Arlington, New Braunfels, Lewisville, and Wichita Falls for fifteen performances across the state, in addition to their first TV Christmas special in partnership with The Country Network, set to air November 29th with ten additional broadcasts throughout the Christmas season for more than fifteen million viewers! In addition to their first TV special, The Grand Ol' Christmas Show will partner again with Fort Worth's 95.9FM The Ranch and Justin Frazell's, Texas Red Dirt Roads' radio show for their third annual, live radio broadcast heard in syndication on dozens of affiliate networks across the US, from Oregon to Florida.
OUR STORY
In 2003, producer Will Hearn and Blue Water Highway's Greg Essington and Zack Kibodeaux were still in high school and wanted to write and perform a Christmas show, but something very different from anything else out there. Realizing the current market for Christmas entertainment was stale and overly commercialized, the three friends developed a show combining progressive and culturally relevant ideas with nostalgic Christmas tunes performed through the framework of a vintage time period that appeals to a multi-generational audience, a concept they called progressive nostalgia. The show began as a one-night-only fundraiser for the Brazoria County Youth Home and turned out to be a surprise hit and a standing-room-only sell out. Produced again in 2004, 2005, 2009, 2015 and continuing to sell out every single show. Executive producer, Will Hearn, formally took over the reigns in 2016 and absorbed the show into his Grand Ol' Production Company. With its demand and popularity continuing to grow, a successful Grand Ol' mini-tour was embarked upon in 2016 selling nearly a thousand tickets in San Marcos and New Braunfels, leading to an expanded tour that will reach ten cities in 2019.
GIVING BACK
The Grand Ol' Christmas Show's history is rooted in charitable giving. Since the show's inception fifteen years ago, the artists involved have helped raise over $150,000 for various charitable organizations including the Brazoria County Youth Home, Agape in Action, The Brazosport Center for the Arts and Sciences, and Military Moms and Wives of Brazoria County. We will continue to honor those charitable roots by donating a portion of this year's ticket proceeds to Habitat for Humanity of Southern Brazoria County. For more information, or to become a sponsor, please visit www. gochristmasshow.com or by calling (979) 583-2221.
Blue Water Highway (Facebook/ Twitter/ Instagram)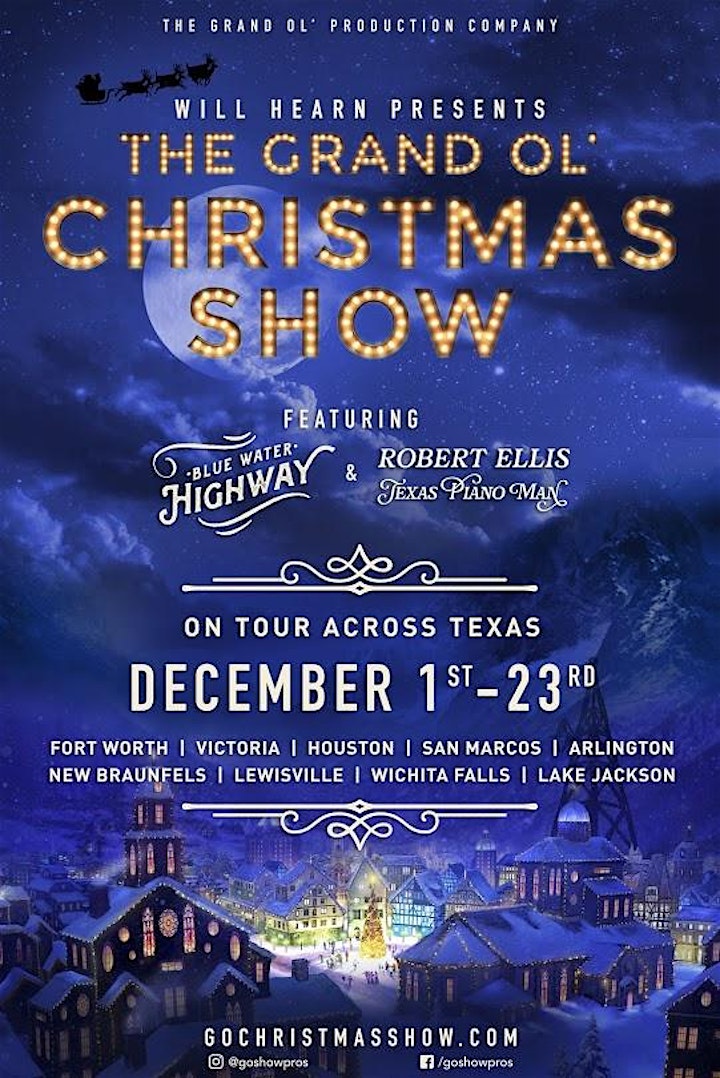 Venue Information:
Ridglea Theater
6025 Camp Bowie Blvd
Fort Worth, TX, 76116