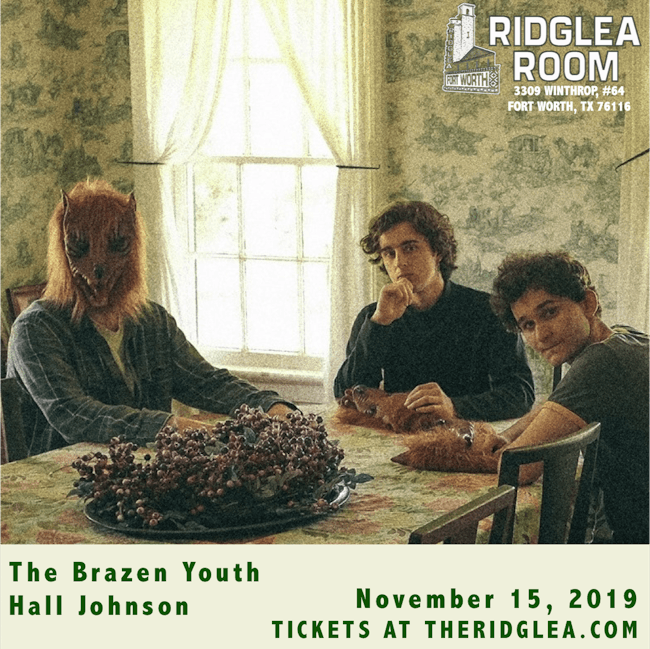 Presented by Ridglea Theater
The Brazen Youth
Hall Johnson
Ridglea Room
Ridglea Theater presents The Brazen Youth, Hall Johnson in The Ridglea Room, Fort Worth, TX
The Brazen Youth (Facebook / Instagram / Twitter)
he Brazen Youth began with an unlikely union of two eighth graders, Nicholas Lussier and Charlie Dahlke. Based on a 300-year-old farmhouse in Lyme, CT, the pair developed their folk-based sensibilities in a space that was unlimited in creative power. They spent their formative years between the musty bookshelves of the farm, crafting a record that came to be called The Ever Dying Bristlecone Man (2016), which was pure evidence of the ambition and imagination of both songwriters. With a new surge in online followers, Nick and Charlie's good friend Micah Rubin joined the band, creating a complete lineup that would tour the United States throughout 2017 and 2018. During this time, the trio was developing a more polished, cohesive LP in their self-constructed studio that would release in 2018, called Primitive Initiative. Following a longer period of touring, including dates with friends Spendtime Palace, The Brazen Youth's upcoming EP, titled 15 BILLION EYES was completed. While Ever Dying and Primitive Initiative made use of darker textures, 15 BILLION EYES is more inventive, playful, and dynamic than any past work. The songwriting is more distinct – contrasting Charlie Dahlke's declarative, bold statements with the reflective, moody pondering of Nicholas Lussier. Mixed by Sam Griffin Owens (Sam Evian), the record has a unique warmth that is both recognizable and surprising. On the wake of the record release and a long string of tour dates, the Brazen Youth remains a brotherhood like no other – a creative force which constantly seeks to challenge itself and shed its old skin. - Will Orchard
Hall Johnson (Facebook / Instagram / Twitter)
Hall Johnson is a 5-Piece band that was formed in Dallas in 2016. The name Hall Johnson, for those who don't know, was coined from the road that runs through the band's hometown, granting the band some early recognition around the area.
In April of 2017, they released their split-single "City Lights/Upstate" which has gained attention from local media outlets such as The Dallas Observer, This New Band, and others. On December 30th, Hall Johnson released their highly anticipated debut EP "Goalie" which has made its way through various media outlets and is currently rising through the ranks of multiple streaming platforms.
Their Next EP titled "Day Trip" is out September 14th.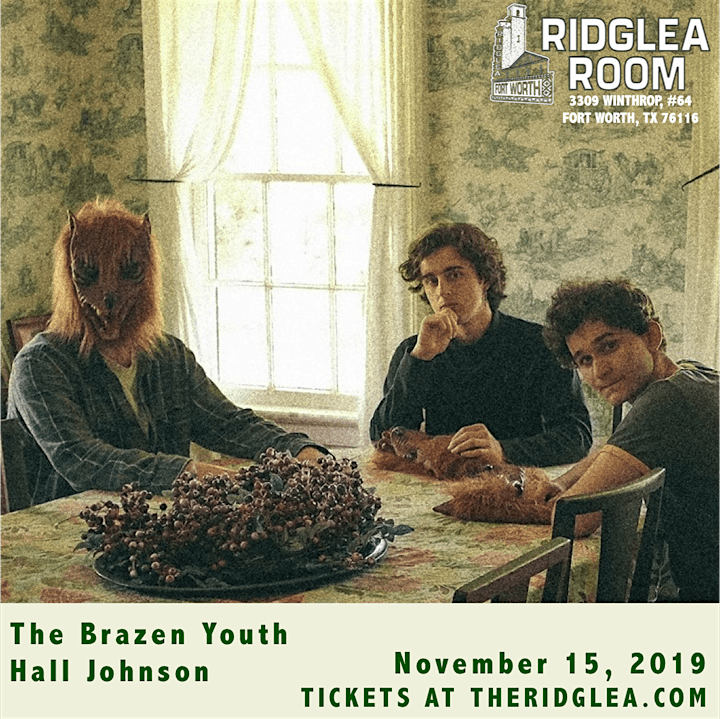 Venue Information:
Ridglea Room
3309 Winthrop Ave
Fort Worth, TX, 76116