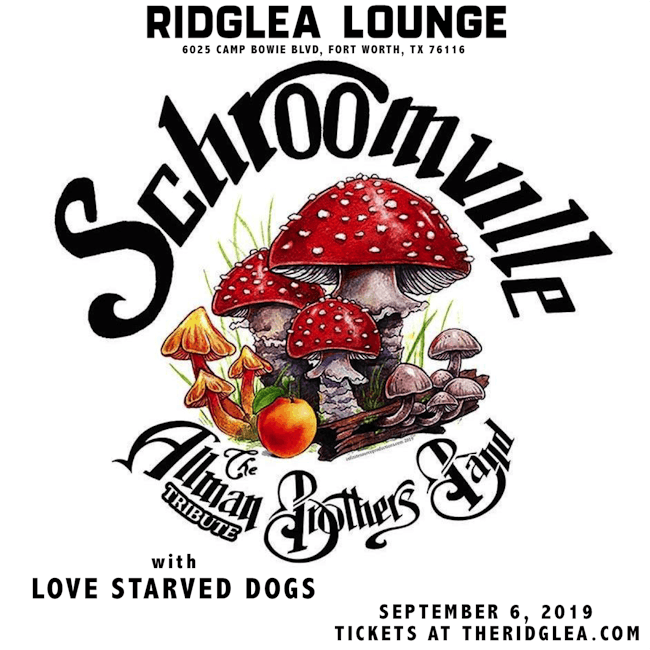 Presented by Ridglea Theater
Schroomville, Love Starved Dogs in the Lounge
Ridglea Lounge
Ridglea Theater presents Schroomville (The Allman Brothers Band Tribute), Love Starved Dogs in The Ridglea Lounge, Fort Worth, TX
Schroomville (Facebook / Instagram / Twitter)
So you really want to know how it all got started do you?
Well.................
Schroomville started as a Monday night jam session among friends. A casual meeting of the minds to bleed off the stress of the day jobs with music. Good old Rock n Roll music. They went from a trio, to a quartet, to a five piece, each time adding a really good player to the group. Before long it was apparent that they needed to get this thing in front of an audience again. All of them had decades of experience, both playing and performing, and the performance bug is a very difficult one to shake.
As their songlist grew, they noticed that it was heavy on Allman Brothers tunes. They lent themselves to the groups instrumentation and temperament quite well. The very nature of the ABB songs and sound was one of open improvisation and never playing a song the same way twice. This allows Schroomville to be a tribute band and still interject a great deal of personal creativity. After working up about 2 hours worth, they decided to go all in, and the result is what you see today. Schroomville - A Tribute to the Allman Brothers.
As for the name? Schroomville. Take note of the "C". Look at an ABB album cover. Thar be shrooms all over the place.
Play on words? Yes.
Incorrect spelling of 'Shroom? Yes.
Psychotropic drug reference? Not unless you have a guilty conscience.
Come on out and hang with us folks. Drink, eat, dance, talk, flirt, groove. You know. Get your Schroom on !
Love Starved Dogs
Introducing the Love Starved Dogs, a new classic rock cover band featuring prominent Fort Worth author and journalist Tim Madigan. No matter your generation, with tunes by the Rolling Stones, Tom Petty, The Doors, and Santana (with a little funk thrown in for good measure) the Dogs will get you singing, dancing and clapping. Joining Madigan are Gary Kelly, a veteran of the local music scene on keyboards and vocals; another seasoned rocker, Danny Cisco Cortez, on drums and vocals, and Joaquin Reyna on lead guitar.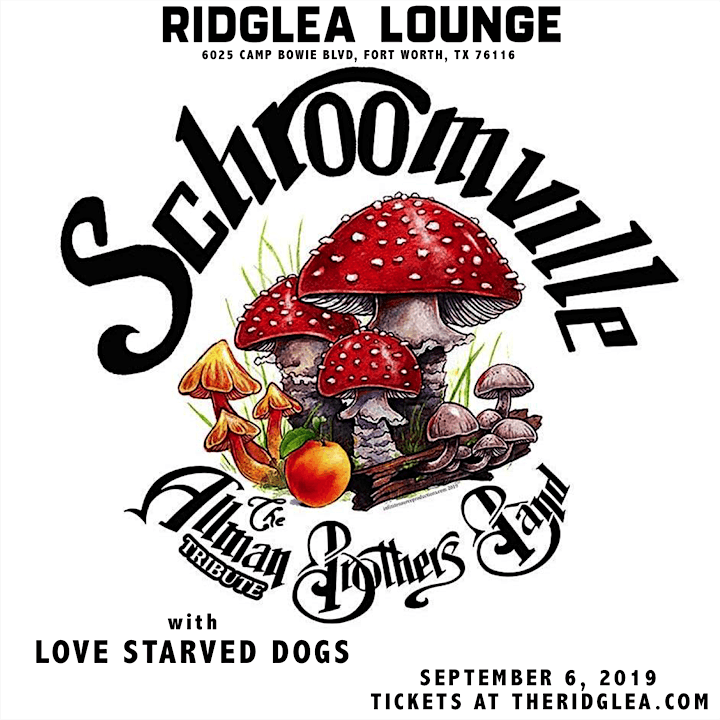 Venue Information:
Ridglea Lounge
6025 Camp Bowie Blvd
Fort Worth, TX, 76116