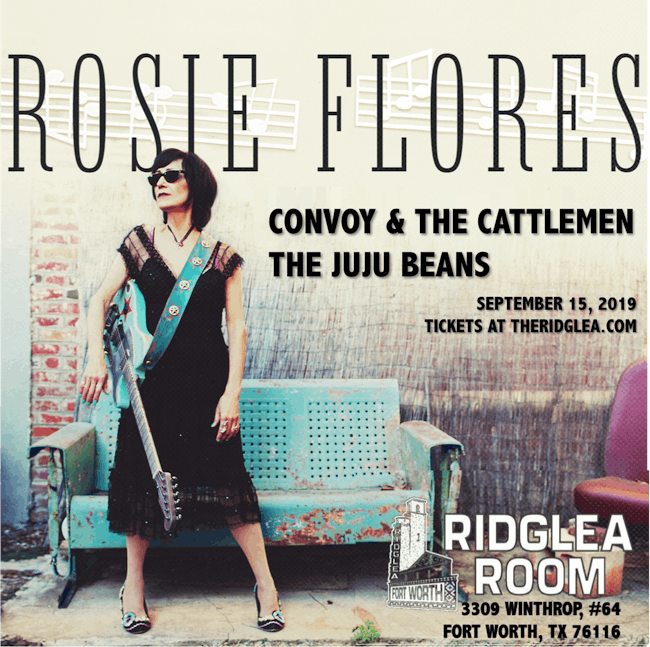 Presented by Ridglea Theater
Rosie Flores
Convoy And The Cattlemen
Ridglea Room
Ridglea Theater presents Rosie Flores in The Ridglea Room, Fort Worth, TX - alternative country, rockabilly, blues, rock
Rosie Flores (Facebook / Instagram / Twitter)
It's telling that Rosie Flores' e-mail handle begins "chickwpick…" In a long and eclectic career of singing, songwriting and performing, no phrase has ever more aptly described the San Antonio native.Over the course of a career that has spanned more than four decades, Flores has jumped feet first into punk rock (with her '70s-era band, the Screaming Sirens), country music of both the Bakersfield and Nashville varieties, the Texas singer/songwriter scene, alt-country, straight-up rock, and rockabilly. So much so the latter, that her onstage moniker for years was "Rockabilly Filly"—but through it all, she was the "Chick with the Pick."Profiled in Guitar World, Premiere Guitar and Guitar Player magazines, Flores was cited by Venuszine as one of the "Top 75 Greatest Female Guitarists of All Time." Along the way, she released a number of critically acclaimed albums—among them, her solo debut, 1987's Rosie Flores, 1995's Rockabilly Filly, 1999's Dance Hall Dreams, the acoustic live set Single Rose in 2004, 2009's Girl of the Century and, in 2012, the aptly-named, self-produced Working Girl's Guitar. Flores was the first Latina to chart in Country Music.In recent years, Flores worked with female rockabilly pioneers Wanda Jackson and Janis Martin, in an effort to help propel them back into the spotlight. In 2007, she won a Peabody Award for her narration of the rockabilly documentary, Whole Lotta Shakin' and later produced the The Blanco Sessions, which would prove to be Janis Martin's last recording. In February 2019, Flores was inducted into the Texas Music Legends Hall of Fame.Simple Case of the Blues brings Flores full circle, and takes square aim at a genre she has only touched on in the past. She lends her soulful voice and fiery guitar to songs by Roy Brown, Wilson Pickett, Heath Wilson, and a spate of new originals. Produced by songwriter/guitarist Charlie Sexton (Bob Dylan, The Arc Angels), with an assist by guitarist Kenny Vaughan (Marty Stuart, Lucinda Williams) and bassist Dave Roe (Johnny Cash), Simple Case of the Blues was, to hear Flores tell it, a long time coming: "I got infatuated with the blues in high school," says Flores. "It was the first music I ever played." She returns to the blues now as a seasoned performer steeped in life's uncompromising lessons. At once torchy, soulful, heartfelt and yearning, Simple Case of the Blues "is the music you make when you've come through joy and heartbreak and back again," says Flores. "It's an ongoing process; I've mastered the life of a musician, but I'll be working on the guitar for the rest of my life." (2019)Album Reviews:"Rosie Flores is in top form on Simple Case of the Blues as a blues shouter, a soul singer, and riveting guitarist who can put her own stamp on a song. Simple Case of the Blues brings beauty out of the shadows, dances joyously across every musical terrain, and delivers some of the most soulful music released so far this year." ~ Henry Carrigan, No Depression"It's easy to see why Flores calls this the best album of her career. Let's see if Flores and this Nashville/Austin cast of musicians are considered for a BMA. In any case, check this, a February release, as an early contender for one of this year's best soul/blues albums." —Jim Hynes, Elmore Magazine"Simple Case of the Blues….might just be the best one yet." ~ Blues Matters, UK.
Convoy and the Cattlemen arose from the city of Arlington, TX, in the heat of the summer of 2010. The six member ensemble, influenced largely by the energy of rock and roll, professional wrestling, pork tacos, and lots and lots of beer, consists of fearless leader and acoustic guitarist, Convoy Cabriolet, a smokin' fast lead guitarist, Toker Ace, a head-bangin' steel guitarist, Hawk Hawglund, a crazy little fiddler, Tandy Hyde, a bona-fide-insane bass fiddler, Slappin' Jimmy, and an out-of-control drummer, Little Big Lech. Together this team of comrades has taken the country-western and punk scene by storm with their one-of-a-kind, highly energetic performance. Convoy and the Cattlemen will be pressing their first set of original tunes to vinyl in the spring of 2013, long after rummaging up one of the best, biggest, and diverse groups of loyal fans in North Texas. Convoy and the Cattlemen have warmed up crowds for the likes of Junior Brown, Nick 13, Eleven Hundred Springs, Two Tons of Steel, and the Whiskey Folk Ramblers and churned up madness of their own doing, on some of the best stages Fort Worth and Dallas, Texas have to offer. You better believe country-western will never be the same. YEE-HAW!!!
The JuJu Beans (Facebook / Twitter)
The JuJu beans combine elements of 60's Garage Rock, 70's Punk, Boogie Blues, as well as Coutry and Western, all played with extreme energy levels and verve, and which form a unique, highly refreshing sound. Compare this to the bloated, over-saturated airwaves of today that are filled with either grossly overproduced dance pop schlock, or greatly over-produced metro-metal, and you'll soon realize that the world needs The JuJu Beans, and so do you!. Combine this revelation with seeing one or many of their extremely high energy live shows, and you have one of the best bands in the Southwest region, or any region for that matter.
Basically, The JuJu Beans are charismatic, fantastic, energetic, electric , spazmatic, sarcastic, basic, frenetic, bombastic, elastic, and pretty much any other word ending in ic. So, get out and see them live NOW, then make sure you buy all three (so far) cd releases, or there's definitely something wrong with you!!!
Venue Information:
Ridglea Room
3309 Winthrop Ave
Fort Worth, TX, 76116