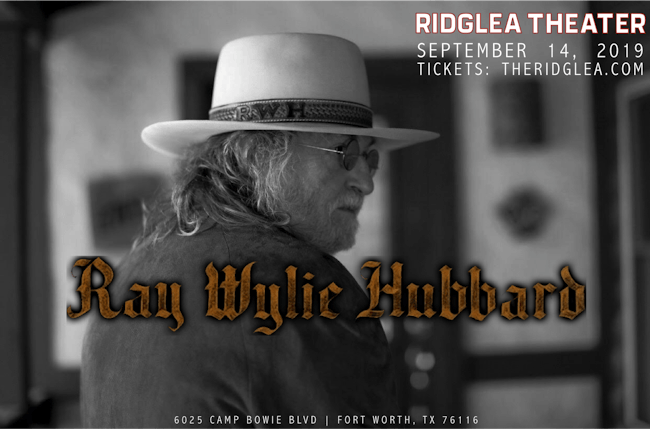 Presented by Ridglea Theater
Ray Wylie Hubbard
Ridglea Theater
$150.00 - $240.00
Sales Ended
Ridglea Theater presents Ray Wylie Hubbard in The Ridglea Theater, Fort Worth, TX - Americana, singer songwriter, outlaw music
Ray Wylie Hubbard (Facebook / Instagram / Twitter)
As a music lover of impeccable taste, odds are that you're already looking forward to spending the better part of the next hour – and several more after that – getting rather obsessively familiar with this latest serving of song and groove from Ray Wylie Hubbard. Having no doubt played his last album, 2010's A. Enlightenment, B. Endarkenment (Hint: There is no C.), to digital bits – and committed to memory such earlier chestnuts as Snake Farm, Growl, Eternal and Lowdown, Crusades of the Restless Knights, and maybe even everything else going all the way back to that 1975 Cowboy Twinkies LP that Hubbard himself would rather you forget – you probably can't wait to tuck into The Grifter's Hymnal and leisurely savor it from end to end.
This, of course, is how things should be. But a couple of variables could throw the above plan off the rails a bit. Suppose, for instance, that the damn Mayans were right, and what's left of 2012 is all the time we have left, period. Or, maybe despite that aforementioned impeccable music taste, you've somehow managed to make it this far into the 21st century without ever hearing of this Hubbard fellow. Grim scenarios, yes, but fear not; because whether you're short on time due to an impending apocalypse or simply need a tidy introduction to bring you up to speed, the opening track on The Grifter's Hymnal, "Coricidin Bottle," tells you everything you need to know in just under two minutes. What it tells you about The Grifter's Hymnal is that the record rocks. And what it tells you about Ray Wylie Hubbard is, he's the kind of scrapper poet with the devil-may-care wherewithal to write both "lay down a groove like a monkey getting' off" and "shakes the mortal coil round my amaranthine soul" into the same song – and the lethal charm and chops to pull it off.
"This really was a very special record to me," Hubbard says. "It wasn't easy, and some of it really was a struggle, but it was fun. I think each record to me has been a struggle in a way, and I like it that way. I like it that they're all hard to do, because I think that makes them all have more value to me. It makes me kind of reach for a better part of myself. It keeps me from settling."
$10 Valet Parking Available.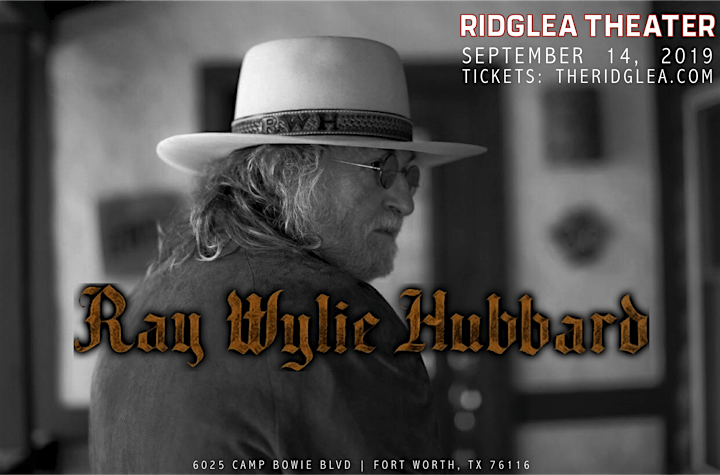 Venue Information:
Ridglea Theater
6025 Camp Bowie Blvd
Fort Worth, TX, 76116