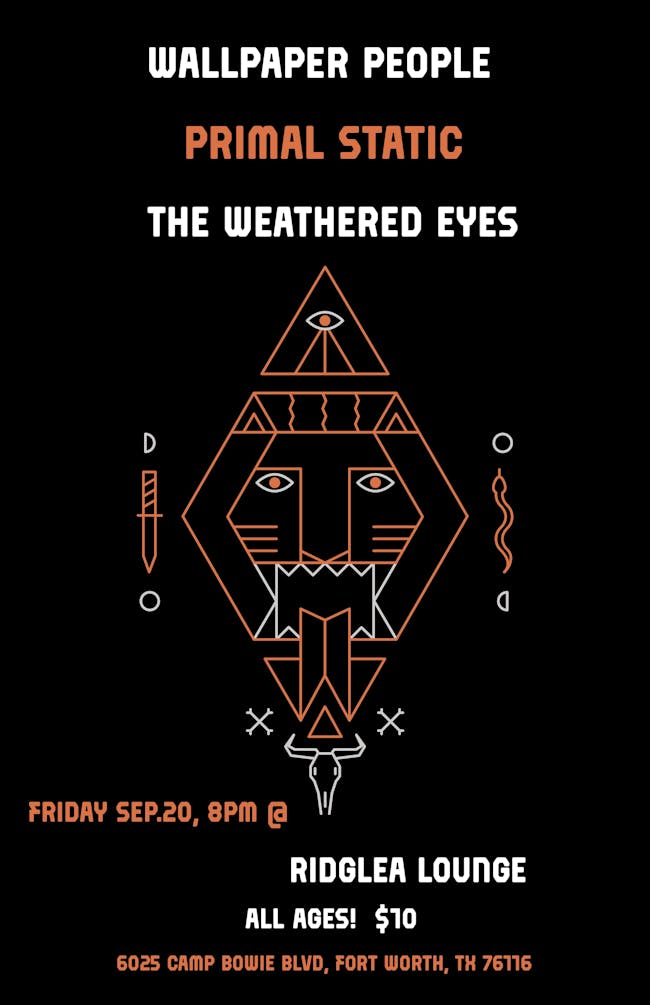 Ridglea Theater presents Primal Static, Wallpaper People and The Weathered Eyes in The Ridglea Lounge, Fort Worth, TX - Alternative Rock
Primal Static (Facebook / Instagram / Twitter)
Primal Static is a two piece alternative rock act. Their music seduces with the soulful essence of blues, and fearlessly rocks with trance rhythms and beats. Song writer/singer/guitarist G. T. of Primal Static sings and plays without reservation, dripping with raw emotion. His exquisitely thought provoking lyrics are second to none. Keyboardist/bassist Houfei brings up the rhythm section with her elastic soulful bass and wonderful classically trained keyboard playing. The band uses innovative trance beats to round out their incredibly unique sound sculpture. Primal Static is the definitive live band, with expert musicianship and charismatic presence. Live shows have been the backbone of the Primal Static experience flooring audiences from all over the country!
Wallpaper People (Facebook / Instagram)
The Weathered Eyes (Facebook / Instagram )
Joseph Laws and the Weathered Eyes is a rebirth and reshaping of years of original material written and previously performed in solo acoustic style by singer-songwriter Joseph Laws. Providing percussion, as well as recording and production services for the band is Cody Morris, while the bass is carried by Daniel Smith.
Hailing from an extensive background in classical violin and theatrical performance, Joseph's original music is rife with dynamic transitions, while also boasting influences from a number of alternative, classic rock and blues artists. Most songs tend to be more bass and drum forward, while the guitar holds the rhythm, yet the band tends to find themselves regularly "playing in the pocket", thus their genre is considered groove rock.
Venue Information:
Ridglea Lounge
6025 Camp Bowie Blvd
Fort Worth, TX, 76116