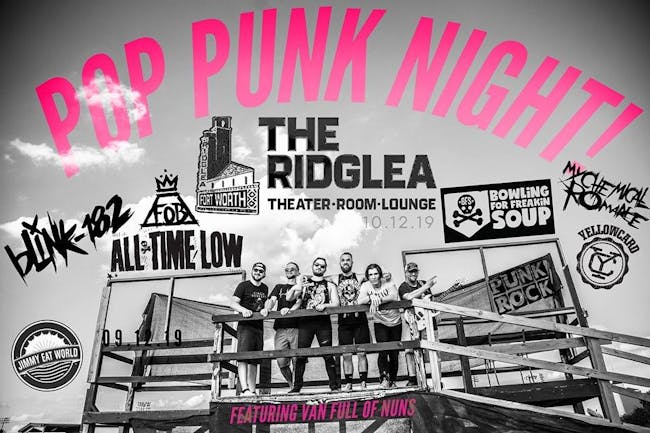 Presented by Ridglea Theater
POP PUNK NIGHT at the Ridglea Lounge w/ Van Full of Nuns and Teen Spirit
Ridglea Lounge
Ridglea Theater presents POP PUNK NIGHT in The Ridglea Lounge w/ Van Full of Nuns and Teen Spirit, Fort Worth, TX - Pop Punk, Alternative
POP PUNK NIGHT is coming to Ft. Worth and our mission trip is clear... we will bring pop punk back to the masses 🙏
Join us for a night of full force nostalgia!!! Sing and dance your heart out to our favorite pop punk / emo classics from Blink-182, Bowling for Soup, Fall Out Boy, My Chemical Romance, and way... waaaay more.
Van Full of Nuns (Facebook)
Van Full of Nuns is THE Dallas based "Six Piece Pop Punk Super Group" and if you haven't been to a headlined show yet... put your converse high tops on and get ready to rock 🤘🚙✌️
Teen Spirit (Facebook)
The tribute band "Teen Spirit" is for people who love the music of the 90's record shattering band Nirvana but who never got the chance to see them live, or want to experience the live show again! Complete recreation of the experience includes themed sets and backdrops as well as band members who look and play the part. Using all the outfits, gear, and play styles to the original members is what sets us apart from the rest. Respect and love for the music imbues this group and is what makes their ability to deliver one of the most iconic and immersive live shows ever witnessed!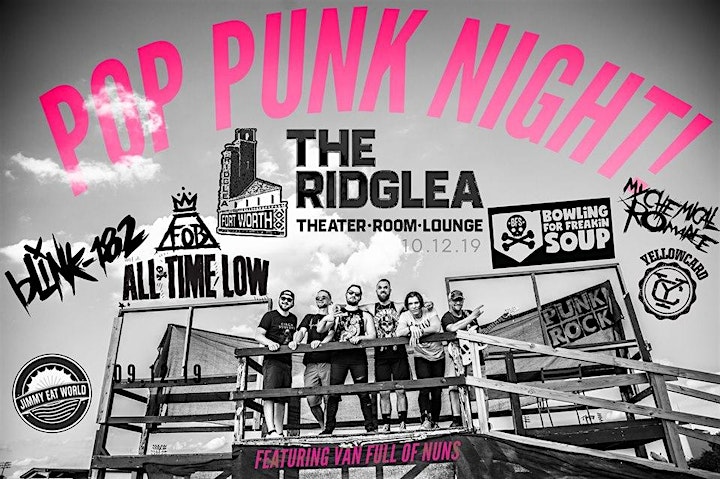 Venue Information:
Ridglea Lounge
6025 Camp Bowie Blvd
Fort Worth, TX, 76116