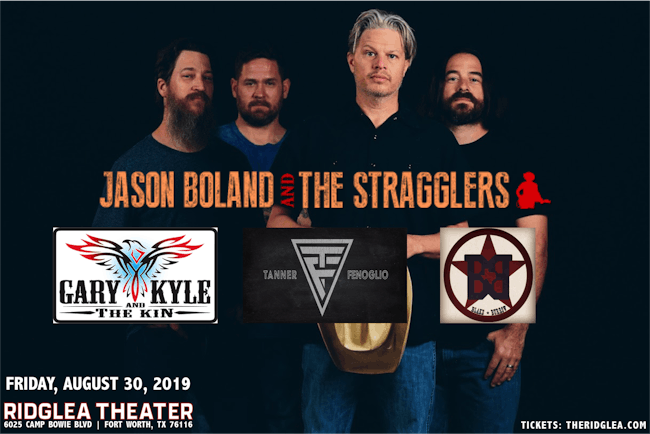 Presented by Ridglea Theater
Jason Boland & The Stragglers
Gary Kyle, Tanner Fenoglio, Blake Burrow
Ridglea Theater
$25.00 - $240.00
Sales Ended
Ridglea Theater presents Jason Boland & the Stragglers, Gary Kyle in Fort Worth, TX - Red Dirt, Texas Country
Jason Boland & the Stragglers (Facebook / Instagram / Twitter)
Jason Boland and the Stragglers, Hard Times are Relative
Our favorite songs are like one-night stands: passionate or sad, capable of recalling moments with Proustian power. Our favorite artists are lifelong companions: fixtures we turn to for comfort and highs.
Over the last two decades, Jason Boland and the Stragglers have delivered and become both.
"We've always just wanted to entertain ourselves and put out music that would be a part of people's lives, not just something passing to them," says Boland. "We want to be something more monolithic." He pauses and grins as he adds, "We're just a social experiment at this point."
Boland is talking about the deep body of work he's created with his band of jangly honky-tonk aces, the Stragglers––Grant Tracy on bass; drummer and background vocalist Brad Rice; Nick Worley on fiddle, mandolin, and harmonies; and Cody Angel on guitar and pedal steel. Fronted and co-founded by Boland with Tracy and Rice, the band has featured only a handful of other members over the last 20 years, all of whom––whether they're currently Stragglers or not––are like brothers. As they've independently sold more than half a million albums, the outfit has packed iconic dancehalls, theaters, and other big rooms across the country.
With their new record Hard Times are Relative, Boland and the Stragglers stack the smart, road-ready outlaw country longtime fans have come to expect alongside creative risks that flirt with punk and psychedelic sounds. The 10-song collection is a rare blend of instantly gratifying and rewarding of closer listens––a definitively Stragglers accomplishment. "It's an upbeat album––a lot of fast songs, but it doesn't try to be fast," Boland says with characteristic insight. "It just sits in the pocket."
No one has combined Woody Guthrie's conscience with Waylon Jenning's panache quite like Boland and the Stragglers. Since debuting in 1999 with the Lloyd Maines-produced Pearl Snaps, the band has matured without taming their refreshing irreverence. "We always joke that we try to take as much as we can from Lloyd and apply it to producing our own records," Boland says. "We've worked with him so many times. The most obvious thing he taught us is: just be musical. Don't hammer through the songs like a garage band all the time."
That mix of subtle musical sophistication and unruly Oklahoma junkyard pedigree has resulted in some of the best independent honky tonk in recent memory. "You just have to be where you are––keep plugging away and doing the best you can at any moment," Boland says, reflecting on their career thus far. "For a bunch of slackers [like us], that's not too terribly tough."
Co-produced by the Stragglers, David Percefull, and Adam Odor, Hard Times are Relative is the band's ninth studio record. All songs were recorded live to tape and without the use of any computers––now a Stragglers' hallmark. Upbeat steel guitar kicks off album opener "I Don't Deserve You" before Boland's signature baritone thunders in, smooth and stronger than ever. When fellow sly honky-tonk champ Sunny Sweeney joins him in out-front harmonies, the two become the rootsy dream team you never knew you always wanted.
The album's title track is a masterpiece: an epic story song about a young orphaned brother and sister depending on the land and one another. Rich details layered over strings paint a scene that's compelling and lush. The song has become one of Boland's favorites. "Folk music is hard to write. Country music is hard to write," he says, reflecting on the difficulty of spinning a long tale while keeping it simple and engaging. "When you hit your own little tuning fork in your head, that one is a hard sell, even to me. But I enjoy that song."
"Right Where I Began" sounds like vintage Stragglers: clever wordplay and muscly guitars ready for two-steppers. Fiddle and vocal showcase "Searching for You" shows off Rice's and Worley's harmonies that are downright divine. Crunchy guitars drive "Dee Dee OD'd" as Boland offers another round of wry observations. Easy gem "Going Going Gone" makes a solid argument for fiddle in rock-and-roll as Boland deftly turns a baseball metaphor into a classic leaving song.
Gorgeous waltz "Do You Remember When" bemoans some of modern life's emphasis on disposability and the dismissal of heritage. Rollicking "Tattoo of a Bruise" picks up the same idea, and is tongue-in-cheek country doo-wop, fueled by fiddle, steel, and drums. "I'm not judging anybody," Boland clarifies. "Our music has always called it like we see it, right or wrong, smarter or dumber."
Praise for the past but acknowledgement of nostalgia's limitations is a career-long theme for Boland, and one that this record continues to carry. "We don't want to lose the chili recipes and the Schroeder Halls because people are moving on to faster, louder, and newer," he says. "But instead of just hemming and hawing, remembering what's old and gone, we want to have new experiences within those frameworks––make memories with what's left of the good stuff."
With lines like "Empty pockets don't mean you need money / It's just another place to put your hands / And focus on that rock you've been kicking / One day it's going to be a grain of sand," "Predestined" challenges listeners as it soothes. The song is a lyrical victory for Boland, who's long-since become a master of distilling heady ideas into digestible nuggets.
Penned by Oklahoma music godfather Randy Crouch, "Grandfather's Theme" serves as the album's climactic closer. Attacked with psychedelic ferocity by the band, the song picks up the record's recurring concepts of the ground's insistence on shifting, inevitability, and our complex relationship with the past. Stripped down as Boland sings, the song soars off into a trippy, robust jam-band send-off––a serious triumph especially considering it's a defiantly analog recording. "We're fighting the digital world because they can make it so huge," Boland says, discussing the balancing act of filling out songs while letting them breathe. "I'm really proud if what we did."
As he mulls over where the Stragglers have been and where they're headed, Boland comes back to one idea over and over again: he and his band are who they are, and with that genuineness comes grit, beauty, and staying power. "We're fortunate that we're not trying to fool anybody," he says. "That's what it comes down to. We're all loners but somehow a team. Now that I can look at it all, I can see: it's been fun."
Here's to the next 20 years.
Gary Kyle (Facebook / Instagram / Twitter)
You hear a lot of "behind the scenes" stories about the true songwriters of our time, the special ones who are compelled to write, and couldn't stop even if they wanted to. A most common tale about such songwriters is the one about keeping a notepad by the bed in order to capture those elusive little idea fairies that tend to escape the grasp seconds upon waking. A most uncommon tale is the one about a songwriter who remains totally coherent in the dream state and writes entire songs while in that slumber, and upon waking has it ready to commit to paper and guitar. Meet Gary Kyle.
Born into to a big family headed by musical parents, a very young Gary was scratching out lyrics from the time he could put pen to paper. His urgency to write was a constant companion captaining him through a life infused with rich homemade love, personal family tragedy and a deep respect for the time allotted us in this life. Growing up just outside of Houston, Texas, he did his best to meet all the requirements that would make him a strong, well-rounded young man; did well in school, went to college where he got some of his best songwriting done while sitting in class, even got a sales job accompanied by a big devoted paycheck. Yet nothing gave him the peace he found in creating music, a beckoning that rose above the cacophony of a "responsible life." The stage had been calling for years, and he finally answered. Gary and his guitar played over 250 shows that first year and had his first full-length album "Livin'" to show for it. The following year, he phased in a fiercely skilled backing band, and within six months went from a brand new act to headliner around his neck of the woods. The course had been set, and Gary was headed towards his true north.
Over the next few years, Gary Kyle released two more studio projects, the full-length album "Turn This Life Around" in 2011 and his latest EP "Texas Strong" in 2014. Combined all three released brought in four Top 30 singles on the Texas music charts including "Texas Strong," the theme song for the nationally syndicated TV show "Lone Star Roads" with host and revered radio programmer, Justin Frazell. A growing demand for his live show kept him on the road for the most part of each month and he was honored to have the opportunity to share stages with alumni artists including John Michael Montgomery and Tanya Tucker. While Gary's live show echoes his deep roots in Texas and the storied music scene that thrives there, his writing style is the seasoned recipe found largely in the music city of Nashville. It's this kind of 50/50 concoction that removes all regional borders leaving Gary free to move about the "country." It's also the basis for his decision to release in his brand new album in halves. 2
On September 15th, 2017 Gary released the first edition entitled "Rewind (White)," a 6-song EP that projects the spirit of his big Texas soul. The first single "Tornado" characterizes the overall climate of this bona fide country music release and is already sweeping through radio and headed up the Texas Regional Radio chart. When it comes to putting on the old cowboy boots and heading to the dance floor, Gary does it just right like on the rambunctious "So Good So Far" and the slightly more laid-back "Late Night Runaround." And when it comes to the more tender spots of the human condition, Gary does it even better. With a voice the listener can actually feel, he escorts you right to the barstool for a drink full of emptiness on "Champagne." His precision with balladry is a well-honed skill that leaves no doubt that he has faced down demons of his past. That is never more evident than on "Whiskey Dents," a sober reflection about the ripple effect of an alcohol induced state, and by far the most powerful song of the lot. Overall, "Rewind (White)" is a trip down the familiar roads where Gary grew up in Southeast Texas.
The sequel, "Rewind (Blue)," was released in May 2018 and is the more polished side of Gary's writing edge. Stepping away from his more dynamic balladeering, Gary embraces the more rock 'n' roll side of his personality on this release. Having solely written all six songs save for the title-track "Rewind" in which he co-wrote with Ryan Heady, "Rewind (Blue)" represents the wholly refined sound that Gary has been crafting for a decade. Lyrically it is an outpouring of repentance for self-sabotaging behavior and things nearly lost, for the stubbornness of spirt and for things you wish you could do over if given the chance. There is a heavy drifting feel throughout this collection predominantly in songs like "I" and "Away From You" where the lure of life on the road seems the only natural choice for a music man and the best escape from heartbreak. "Rewind" is a conscious voice that speaks to every human soul, the kind of song that immediately evokes that involuntary smirk when truth finds you hiding in your self-glorification. "Poison Flame" tells the story of a heartless lover, but is, in fact, a self-portrait of a much younger Gary Kyle before genuine love seared its mark on him. Fast forward. Now a very dotting husband and family man, two songs stand as tributes to his wife. "Looking For You" when he first found her, and "Together We Have It All" when she decided to keep him, a song Gary describes as "getting really good at just getting by." Combined, both releases take us through the journey of Gary's intimate life as he grows from a vainglorious adolescent to a well cultivated man. Turns out that the biggest mistakes in life make the very best songs…and it's much cheaper than therapy.
Tanner Fenoglio (Facebook, Instagram)
Nocona, TX native singer/songwriter Tanner Fenoglio is coming up on entering a new chapter in his life. One that has been in the making from the time he first picked up that sunburst ibanez acoustic guitar in high school. He has spent the last year in and out of the studio in Ft Worth working with a group of uber-talented musicians and producers to bring his songs to life. When asked about his upcoming EP and the long hours that he has put into making this dream a reality he simply says, "It's time."
Blake Burrow knows country. Raised smack-dab in the middle of nowhere in West Texas, he grew up living the country songs he writes and sings. Like many of his honkytonk heroes, Blake started out singing in the church choir and then moved his music into his everyday life. And that everyday country lifestyle is what you'll hear in each of his original songs. In the time of Nashville sparkle and songwriting mills, this authentic country boy hits a down-home note that we can all relate to.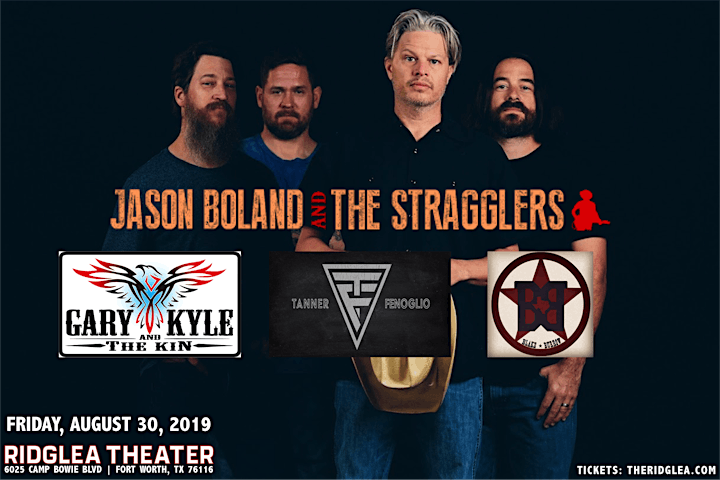 Venue Information:
Ridglea Theater
6025 Camp Bowie Blvd
Fort Worth, TX, 76116