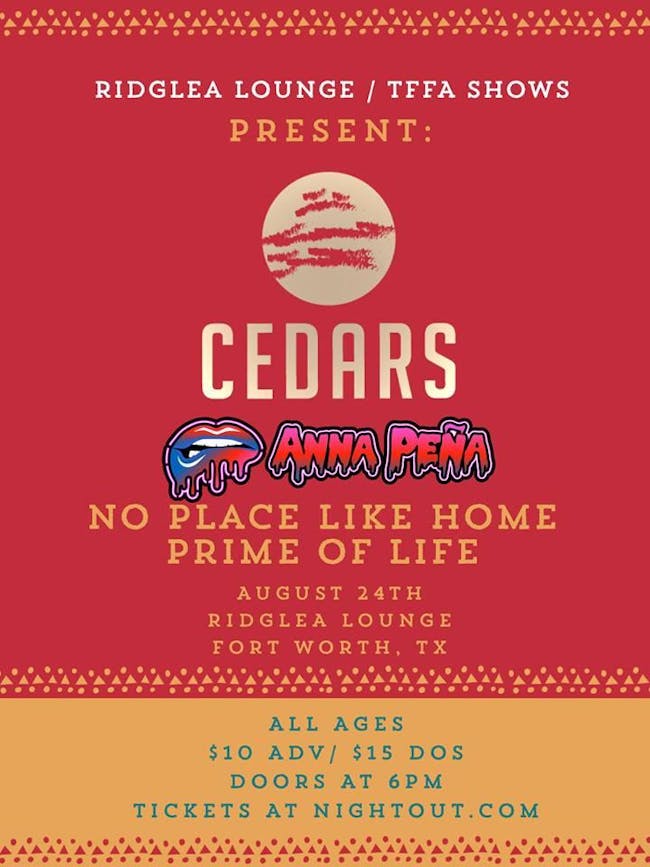 Ridglea Theater presents Cedars, Anna Peña, No Place Like Home, Prime of Life in The Ridglea Lounge, Fort Worth, TX
Cedars (Facebook / Instagram / Twitter)
Cedars is more than a band – it is a collective of people who believe that beauty will change the world.
A mixture of formal education and self-training, Cedars is helmed by Drew Heaton and Sandeigh Kennedy. Together they direct Cedars and combine their talents to develop unique music with a genre-defying style. Poring over sounds and textures, they find the right instruments, both traditional and experimental, to tell their heartfelt and beautiful stories as honestly as possible. They believe that music is there to hold us up, to fill us and expand us, to make space for suffering and for celebration. They believe music allows us to heal and to spread joy. Life and music blend together for them, and Cedars is their way of sharing that with everyone around them.
Anna Peña (Facebook / Instagram / Twitter)
Actress and singer/song-writer Anna Peña is best described as a dark Disney Princess. Mostly creating alternative pop in the studio, Anna tests the limits incorporating unusual genres and contrasting musical styles together. From pop, rock, hiphop, to even musical theatre, all styles are welcome in Anna's repertoire. Drawn to dark subject matter and a theatrical stage presence, Anna's musical inspirations include artists such as The Weeknd, Lana Del Rey, Queen, David Bowie, Lady Gaga, Melanie Martinez, and more. She mostly writes about the highs and lows of love and relationships.
Anna remains true to her rock theater roots drawing inspiration from her favorite show, Rocky Horror Picture show, and incorporating it into her artistry. These theatrical aspects are an important part of her music.
Performing on stages from the age of 4 years old to performing for Howie, Mel, Heidi & Howard on America's Got Talent, Anna constantly shares her art at numerous venues in Dallas/Fort Worth.
No Place Like Home (Facebook / Twitter)
Math rock influenced band from the Dallas/Fort Worth area.
Prime of Life (Facebook / Instagram / Twitter)
Prime of Life is a Dallas / Fort Worth based band that performs their own songs. Taking their name from one of their songs, it has gone on to represent an approach to life and music. The point being that each moment in your life you are at your prime and you bring something unique to the table. This band has an age range that covers more than 20 years and exhibits this attitude perfectly.
They specialize in catchy rock tunes that vary in subject matter from silly to serious. They have a recognizable style, but the songs don't all sound the same. Some bands do covers with a few originals mixed in, but they are songwriters and good at it. They have plenty of strong material to fill a set and you won't get the craving for a cover song once. If you are bored of seeing yet another YouTube video of someone in their bedroom doing "their cover" of some song that everybody knows, check them out. Download some songs, and become a fan.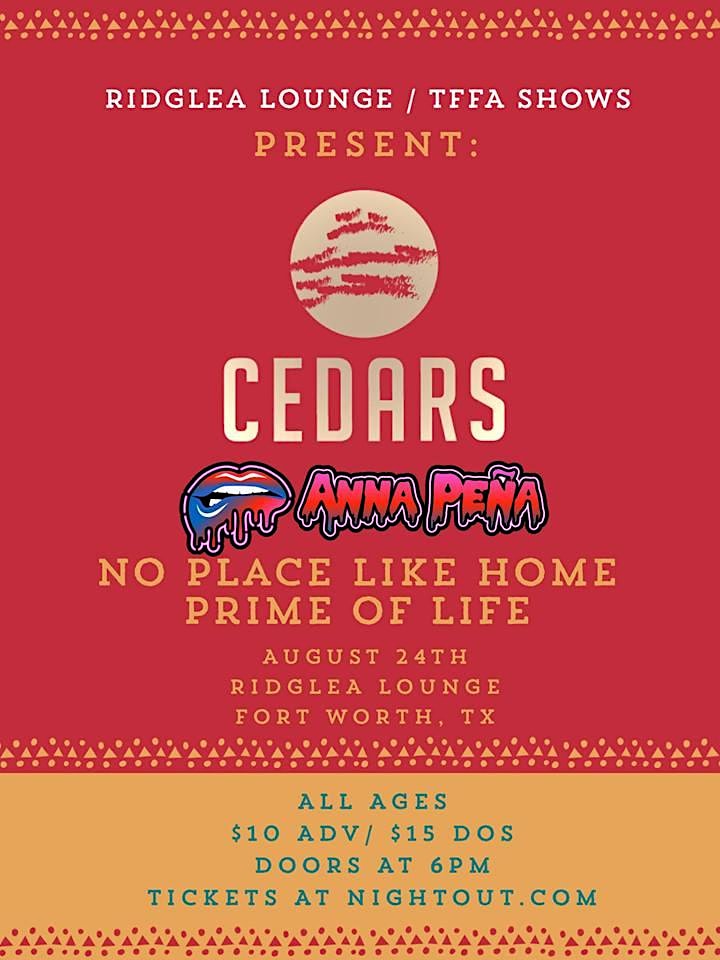 Venue Information:
Ridglea Lounge
6025 Camp Bowie Blvd
Fort Worth, TX, 76116